By LUDWIG VON KOOPA - Traditional relationships, but more importantly: Traditional game purchasing.
I
have been on a roll lately with being concerned with what I deem "traditional values".
Nintendo
used to represent traditional values within the gaming industry, but they've made it clear E3 2015 that they have transformed as a company to be... like any other videogame company. And perhaps no upcoming game (unless you're in Japan, then it just came out as Fire Emblem If) makes this clearer than Fire Emblem Fates. The Iwata Asks for the game was just published, and I recommend reading it here. It really makes clear why Intelligent Systems is doing what they're doing — partly because they got manga writer Shin Kibayashi on board. (They usually don't outsource the story.)
Shin Kibayashi looking fresh.
There are just a couple of unclear parts. One of which is this headline that the mainstream gaming media has picked up: "
Fire Emblem Fates will include same-sex marriage
" and variations of that. The story broke from the
known-to-be-very-deceptive
Polygon website.
Here's how Nintendo apparently worded their statement:
"Fire Emblem Fates [...] includes the possibility for a same-sex marriage to take place between the main character created by the gamer and another character in the game"
Apparently, the
Fire Emblem Fates: Conquest
will allow the male customisable protagonist to have a same-sex affair with another male character, while
Fire Emblem Fates: Birthright
will allow a female customisable protagonist to have a same-sex entanglement with another female character. If you want your protagonist to be female in
Conquest
or male in
Birthright
and want to live out your homosexual fantasies, then you're out of luck. At least you can still
live out your erotic fantasies in the My Castle spa
. (Obviously that's a scary link to click.)
Believe it or not, I actually don't have a problem with how homosexuality is going to be portrayed in Fire Emblem: Fates. It's being portrayed as a choice, just like it is in real life. Your customisable protagonist isn't forced to be a homosexual and presumably isn't being pressured to. (The following may contain spoilers for Fire Emblem: Fates, but I don't use any character names, relevant pictures, or storyline details.)
Fire Emblem If... both families from both games. I think. Staring at one another.
It's unknown if the word "marriage" comes from Polygon or Nintendo, but it's erroneous either way. For one, that's not what a marriage is. But in terms of game mechanics, these are determined by a "Support" system. Traditional marriage between a female and male happens with an "S"-ranked support. The purpose of these supports and marriage, just like in real life, is to create a child.
Meanwhile, same-sex platonic relationships are designated as "A+"-ranked supports. The fact that these are given a differently-designated final stage letter suggests that it is different than marriage. The only homosexual relationship can be done with the customisable protagonist, which can do an S-ranked support with only one other character. In other words, only this one other character in the protagonist's group is open to a homosexual relationship. Seeing that these two NPCs (one in Birthright and one in Conquest) may also marry the other gender and have children, it suggests that they are not homosexual but bisexual. Which isn't a problem since every relationship here is monogamous. The civil union'd same-sex couples end up just adopting a kid from somewhere unknown. I highly doubt they will consider it a "marriage" instead of the terms I've been using throughout this article.
If you didn't understand that, basically it's this: Only one character plus your customisable protagonist can be non-heterosexual in Birthright, and the same numbers apply to Conquest. These four non-heterosexuals are actually bisexual. The non-protagonist bisexual in Birthright is a female, while the non-protagonist bisexual in Conquest is a male.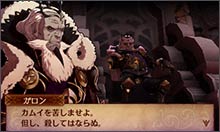 Is this dude the bisexual male in Conquest?
Have fun with your homoerotic fantasies with this dude!
So what is the purpose of this? Why is the media going out of its way to tell us that homosexual relationships are available in Fire Emblem: Fates? Is this going to increase interest in the game among the GLAAD LGBT lobby? ...What if it's actually a distraction tactic? Similar to how Electronic Arts courts the LGBT community while simultaneously pushing the most anti-consumer agenda of them all?
You see, while the media and Nintendo has been dropping this confusing method of how to live out your fantasies in what is supposed to be a Strategy RPG, they are basically sneaking in the news about Fire Emblem Fates: Conquest and Fire Emblem Fates: Birthright being separately-packaged games, with a third DLC adventure on the way. The Iwata Asks says that this is because these are all full games in their own right and you get the full Fire Emblem experience with just one.
However, in practice, you won't know if your choices are meaningful if you only bought one of the games. You'll want to know about the other storylines (contained in different games that you get no discount for) to get the full picture. And the unreleased DLC path.
What's with making your decision at the retailer and not in the game? The Iwata Asks says,
"

The first thing I want to say is that I want you all to think very carefully about which story you want to take before you proceed. Of course I guarantee that either will be fun, but I want people to look into the information that's out there and ponder which one they want to play first. I want people to realize that the decisions start even before you buy the game."
Is this the first time in history a videogame developer has required that consumers search the game up on the Internet to get information about it (and possibly expose themselves to spoilers) in order to purchase it? And not to mention that "the decisions start even before you buy the game" means that not only are you just making an information-seeking and purchasing decision, but that very process is part of the game experience? That turns traditional marketing channel theory on its head. (The below is the Customer Decision Making Process that is taught in every business school in America.)
Apparently, Nintendo is now merging "Post-purchase Use and Evaluation" and "Information Search".
This is unprecedented. At least, I think it is. If it ain't, lemme know in the comments. Either way, by doing this, Nintendo is basically baiting people to buy multiple products for one complete experience. This is not like Pokémon and its dual-version iterations: You can get one copy and still complete the game, experience, and Pokédex with that one copy with trading, made even easier with Internet trading. This is different: It's not completionist, but it's based on story.
And with the story, you have to buy them all. That's a lot of money gone. And that's before any DLC charged. If it's anything like Fire Emblem: Awakening's usage of DLC where all the DLC costs more than the actual game... Well, looks like Intelligent Systems has got you.
Oh, and don't forget amiibo support!
By the way, is Nintendo making a statement about gender since the version that has a female-on-female homosexual relationship is the "easier" path while the version that happens to include the male-on-male homosexual relationship is the "harder" one? By pleasing the LGBT crowd (if it's possible to make them happy), will Nintendo earn the ire of the feminists?!
Ludwig is no longer even interested in the Fire Emblem series ever since Intelligent Systems stopped developing hardcore games like Fire Emblem: Radiant Dawn. Ludwig is also concerned that Intelligent Systems will never develop an HD game. By the way, if Ludwig got any facts wrong in this article, please correct them in the comments section.
Fire Emblem: Awakening is totally put under the bus here.
Upon re-evaluation, Ludwig more-or-less concludes that Fire Emblem Awakening and Fire Emblem Fates treat relationships much better than previous games in the series.